As a life coach, I read a lot of self-help books. Like, A LOT! I am always on the lookout for any little tidbit that could help my much-loved clients. But I'm not gonna lie, not everything I've read has been worth the time it took me to read it.
That is why I have compiled this list for you. I know you're busy and don't have the time to sort the salient self-help from the saccharine, self-important, and frankly silly titles that line your local bookstore shelves.
The following books are only the best I've come across. They were total game-changers for me personally, I recommend them to my coaching clients all the time, and I can't wait to share them with you.
Get ready to take your outlook, your career, and your life from drudgery to delicious with five of my favourite tried-and-trusted, life-transforming titles:
1.   Steering By Starlight: the science and magic of finding your destiny by Martha Beck
Steering By Starlight is equal parts evidence–based research, hands-on tools, and profound insight. It is chalk full of step-by-step exercises that are both practical and incredibly revealing. Steering By Starlight is also wickedly funny. It made me laugh out loud when I first read it, which is saying something. At the time, I was so miserable in my job that I only half-jokingly tried to work out how I might engineer getting hit by a bus just so I could have a few weeks off work.
If you want to learn to live your passion while enjoying a good giggling, Martha's signature hyperbole in Steering By Starlight is the way to go.
"Our imaginations can fixate on catastrophes that are so vague and hard to ward off that they fill us with anxiety that has no clear action implication: The Republicans (or the Democrats) are trying to ruin our lives! Our feet are filled with toxins, which can be removed only thought the diligent use of coffee enemas!" 
2. Let Your Life Speak: listening for the voice of vocation by Parker Palmer
Don't let the diminutive size of Palmer's Let Your Life Speak fool you. At a mere 116 pages this book is packed with the wisdom of Palmer's own journey through his disillusionment with academic life, his subsequent depression, and his eventual realization that one's vocation "is not a goal to be achieved but a gift to be received".
In a genre that often focuses on what to do to discover one's passion, Let Your Life Speakinstead, focuses on the art of simply listening to what your life is already communicating to you. Palmer argues that no matter how strong your will, when you are on the wrong path, your life will tell you. Conversely, when you hit upon something that truly lights you up, no amount of failure, shame, or false starts will dampen your ardor for that path.
"A good scientist does not fear the death of a hypothesis, because that "failure" clarifies the steps that need to be taken toward truth, sometimes more than a hypothesis that succeeds."
3. Callings: finding and following an authentic life by Gregg Levoy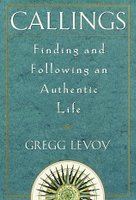 Callings is the definitive operator's manual for discovering and living your life's purpose. In his incredible tome, Levoy explains what a calling is, how to recognize yours, and even how to invoke a calling. He examines the myriad ways we say no to our passions, why we say no, as well as the painful ecstasy of fully stepping into one's purpose. It is beautifully written and breathes truth in every line. If you have no clue where to start on your search for your life's purpose, start with this book.
"Since there is fear and suffering in life, whether or not we take on adventures, whether or not we follow our callings, we might as well suffer in the service of our dreams." 
4. Radical Acceptance: embracing your life with the heart of a Buddha by Tara Brach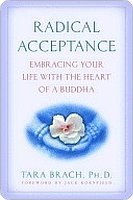 What would happen if you stopped fighting against the unpleasant aspects of your life? What if you stopped trying desperately to hold onto the pleasures? What if you stopped berating yourself and simply accepted who you really are, without judgment? This is what Brach challenges us to do in Radical Acceptance. As both a Buddhist and a Western-trained Psychologist Brach shares her wisdom, compassion, and experience in her very practical guide to receiving life exactly as it is with humility, gentleness, and kindheartedness.
"Whenever we reject part of our being, we are confirming to ourselves our fundamental unworthiness. Underneath 'I shouldn't get so angry' lies 'There's something wrong with me if I do'." 
5. Outrageous Openness: letting the divine take the lead by Tosha Silver
On first pass, Silver's book feels light, playful and sweet. Sort of like a grown-up, literary version of a Kinder Egg toy; a captivating series of tiny, inter-locking parts that delight as they come together. But soon you discover that her book also contains genuine treasure. Her small, bite-sized chapters transform before your eyes into an enchanting and unmistakably wise whole. Silver is a Yale educated practitioner of all things Woo including astrology and yogic philosophy. As such her book is unlike anything else you are likely to have read. Outrageous Openness is practical magic in print form that leaves the reader enchanted and refreshed at close of cover.
"If you ask the Universe to bring what's right, you can't go wrong. I've watched through thousands of readings how trouble invariably follows when someone tries to commandeer what is not theirs. Even the word disaster means 'going against the stars'. But Divine order always brings the right solution at the right time. You learn to relax and follow the cosmically ordained route when it appears. You can't miss it."
Do you have other stellar titles you could suggest? What books have changed your life? Email your suggestions to me. Or leave them in the comments section below. I always love getting new book recommendations!